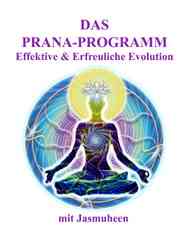 Das Pranaprogramm - Effektive & Erfreuliche Evolution
Dieses neueste e-Book, in dem Fragen aus den letzten zehn Jahren ihrer Reisen zusammengestellt wurden, bietet auch Einzelheiten zu: den positiven Auswirkungen des Prana-Programms; Prana & das Biosystem; Prana & das Gehirn; Prana & Darkroom-Technologie; Prana & das Herz; Prana & die Zellen; Prana & Feldwissenschaft; Prana & das interdimensionale Leben; Vorbereitung, physische Veränderungen & Vorprogrammierung; Kalibrierung, Testen & bequeme Umstellung; Soziale Szenen – Prana & Soziale Szenen; Prana & Elternschaft; Prana & andere Familienmitglieder – Harmonisierung von Haushalten; Prana & Essstörungen; Prana & Sexualität; Globale Themen – Geschenke & Wachstum – Vergangenheit, Gegenwart & Zukunft; Prana & Gesundheit; Prana & Religion; Das Prana-Programm & die Umgebung; Das Prana-Programm & die Politik; Skeptiker & die Medien; plus Ernährung von der Kraft der Sonne, Bigu & Das größere Ganze.
For paperback version to be mailed to you from lulu.com: click here (US$18.95 + P & H).

To purchase & download this e-book click below (AU$5.55).