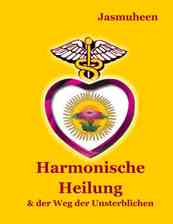 HARMONISCHE HEILUNG (Harmonious Healing)

Heute stirbt jeder vierte Erwachsene unnötiger Weise an einer der sieben lebensbedrohlichen Erkrankungen. Das mag daran liegen, dass zu wenig ganzheitlich orientiertes Wissen propagiert wird oder auch daran, dass für die Betreffenden einfach ihre Stunde geschlagen hat. Und falls es für sie an der Zeit ist, stellt sich die nächste Frage: Können sie dann mit Würde sterben? Sollte man es ihnen selbst überlassen, ob sie das uralte Verfahren der Selbsteuthanasie kennen und einsetzen wollen, von dem schon die Lamas in unterschiedlichsten Zeitaltern wussten? Was hat es mit dieser uralten Methode auf sich, und kann sie mißbraucht werden? Wie sollen wir wissen, bo wir einfach mit unserem eigenen Tod konfrontiert sind oder nur mit einer vorübergehenden Herausforderung? Wie verhält es sich mit Spontanheilungen und Heilern wie dem brasilianischen João de Dios?
For paperback version to be mailed to you from lulu.com: click here 
This book is also available at Amazon Kindle and many other digital platforms.
To purchase and download this as an 5 e-book bundle from our Podia store click Shopping Cart below

.