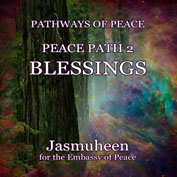 PEACE PATH 2 - BLESSINGS
LIFE ENHANCEMENT 2:- The Blessings Game - Insight, Poem & Pragmatic Exercises. Creating and enjoying more personal, community and global harmony.

MUTUAL SUPPORT:- A mutual commitment to self mastery, self responsibility and altruism.

PEACE SUPPORT 2:- Optional supporting meditation for this pathway is the

Love Breath Meditation

.

COMPASSIONATE ACTION PEACE PATH 2:- Continue with the Personal Health and Harmony Service Agenda:- We recommend that you continue with the free

Personal Harmonization

Program once it has been downloaded, shared, discussed, improved then implemented harmoniously among those interested in supporting the Pathways of Peace agenda. (See our

free e-books

.)

Begin also the personal application of the 8 point Luscious Lifestyles Program to create physical, emotional, mental and spiritual health.

Click

here

to go to our free YouTube Video playlist on many personal harmonization insights and informative videos.