BREATHARIANS, LIVING ON LIGHT, BIGU, PRANIC NOURISHMENT …

ARTICLES – Relevant data on Pranic Living.

Questions & Answers:- Excerpt from the Prana Program book & more.
Q: It is well known that 3 people have died around the 21 day process, can you comment on this?
A: In metaphysics it is well known that we know the exact time of our death the moment that we are born and that we cannot leave this plane unless our work is done for this life and our time is literally up.
Regarding the living on light reality, the difficulty comes because people do not believe that this paradigm is possible, so our job is to provide education regarding how, why and to research the personal and global benefits. Our focus has been to provide a solution to world hunger issues as 15 million children die each year from hunger related diseases. In this context to lose 3 people over the last 17 years with this, is actually amazing.
Personally I would have liked to have lost none however…
Sometimes we do things that push people's buttons of awareness as we challenge the many limited beliefs we all still hold on earth. The alternative is to stay silent and accept society with all its limitations and to stay within the boxes of behaviour people want each other to be in. For some this is possible, for others this is impossible as something so strong within us pushes us into a new rhythm.
I think about the three people who died over 10 years ago now, around the 21 day Living on Light initiation process, and how I used to wish that their deaths had never occurred, and yet I cannot control when people die or how, or the rhythms that push people, from somewhere deep inside, to rise up and break out of limited patterns, or to answer the call to be part of an evolutionary path that stands before us, that is so immensely freeing and grand; a path that beckons us to know the divine essence within all and to also receive its gifts.
These things are not for me to control, for it is not a time of trying to control one another. It is a time of knowing and enjoying ourselves, of choosing the path of love not fear, of education not ignorance, of honour and respect for each other rather than judgment and disdain. It is a time of seeking harmony among us and resolutions to conflict that deliver beneficial outcomes to us all; of sitting down with family and friends, if required, and lovingly communicating our concerns until a problem is resolved in a way that serves us all.
Regardless of the thoughts of the inexperienced observers of our work as it unfolds in the world, the majority of those who gather with me are bright and intelligent people. They do not seek gurus nor are they naïve and ready to be led astray by some charismatic person. They, like myself and many others, have reached a point in their lives where they have asked, "Is the reality I have created, really serving myself and is it beneficially serving all in this world?" If the answer is 'no' then they seek ways to change their model of reality until it is; and if the answer is 'yes' then they seek to gather with others to share and combine their energies so that together we can enjoy a different harmony which is the unifying rhythm of love in our world.
Most people who come to our retreats choose to be well informed and have learnt to check things via the innernet and trust their intuitive guidance; still with the movie "In The Beginning There Was Light" being released and scepticism around this possibility rising again, it has been beneficial to look at exactly what we have achieved these past 17 years – see our Global role with this.
Q: There appears to be so much suffering in our world today, how can The Prana Program change this so that we have a more enjoyable and effective evolution, individually and as a species?
A: Through education we can inspire people to increase the pranic flow through their beings which then changes their personal resonance and how the universe responds to them. The Prana Program path is about mastering energy flow within us and around us so that we can consciously create a present and a future that provides increased health and happiness levels for all.
Q: What is prana?
A: Called the microfood of life, according to http://www.wordiq.com/dictionary.html, "prana is the vital air, or breath, of the human body, as visualized in Hinduism. It is also interpreted as the vital, life-sustaining force of both the individual body and the universe. Its first expounding came in the Upanishads, where it is part of the worldly, physical realm, sustaining the body and reliant on the mind. Prana suffuses all living form but is not itself the soul."
Q: What exactly is pranic nourishment and how does it work, where and when did it originate?
A: The idea of prana as nourishment has been around since the dawn of time. Universal Mind and its Akashic records, share that there was a time where all beings were sustained from the pranic forces. Pranic nourishment is the ability to attract and then absorb all the nutrients, vitamins and nourishment one requires, to maintain a healthy being, from the universal life force a force which is also termed cosmic particles or chi energy.
A person who practices this does not need to take their nourishment from physical food and they also find that by increasing the pranic flow through their bodies they are fed not just physically but also emotionally, mentally and spiritually due to the nature of the pranic flow. Being fed in this way allows us a more effective and enjoyable evolution for reasons we will cover throughout The Prana Program book.

Q: In the west we have now begun to recognize prana as an alternate food source for the physical body, how can it feed us on other levels?
A: When we increase the flow of pure prana within us its presence and essence floods through the system and transforms limiting aspects of how the human biological system is operating thus allowing an individual to access and demonstrate natural but generally dormant abilities. The activation of these abilities provides us with emotional, mental and spiritual nourishment.
Q: What exactly are some of these 'natural but dormant abilities'?
A: The human system is a complex one and currently we use limited sections of our brain as that is all that is required to survive here. Metaphysics can teach us how to access our natural clairvoyant, clairaudient and clairsentient abilities and how to utilize other sections of our brain which according to the science of neuro-theology is hardwired to deliver a variety of experiences that may appear to be supernatural but are actually natural when a person expands their consciousness and anchors their brainwaves into different patterns of behavior.
Q: Does a person need to be a metaphysician to work with or utilize the pranic force more effectively for the evolutionary process?
A: No but we need to know how to create a mental model of reality that allows us to recognize, be open to, and consciously work with, the pranic flow. This happens more powerfully and easily when we understand universal laws as the higher laws behind creation, particularly the Law of Resonance that says like attracts like. Metaphysics is simply the understanding of the science of life. We also need effective, pragmatic and simple tools to harmonize our internal and external energy flow which then delivers many personal and global benefits.
Q: Why is increasing the pranic flow within us an answer to a more effective evolution?
A: Basically it stimulates the release of higher intelligence within us. Prana is composed of various aspects some of which are the invisible mathematical codes that drive and operate matter in form and all of creation. As we increase the influx of this pranic flow within us, it stimulates the same dormant mathematical codes within us to awaken, thus providing us with clearer and greater insights as to the purpose of our existence and the choices we have as creator beings. Increasing its flow within us allows us to perceive life from a different perspective as it expands our awareness and activates the usage of our master glands – the pituitary and pineal – and stimulates them to function in a different way. These glands also regulate our brain wave patterns to either Beta, Alpha, Theta or Delta wave frequencies.

BRIEF SYNOPSIS & JASMUHEEN MESSAGES – PRANIC LIVING
Prana = chi = mana = divine love = universal life force. As many are now aware, metaphysical author Jasmuheen has spent the last four decades studying the rhythms of the field of Divine Love to the degree that in 1993 she discovered its ability to provide nourishment on not just emotional, mental and spiritual levels but also on a physical level. There are now approximately 40,000 people in the West who have the ability to choose where they wish to get their physical body nourishment from. As a result of this freedom of choice they are far less dependant on the world's food resources. Click here for videos on some of their experiences.
On Pranic Living Jasmuheen writes: "Nourishment from prana happens as a direct response to our desire for it and as a natural response to our vibration. The capacity to live on light is directly related to our ability to attract, absorb and radiate Divine Love which is determined by our lifestyle. When we are well tuned and four body fit, we can access an inner power which has the ability to love us, guide us, heal us and also nourish our cells. As vast multi-dimensional beings, we have limitless access to a source of internal nourishment (prana-chi) that constantly bubbles champagne-like throughout the matrix of life. This supremely loving pranic pulse acts as a type of glue to bind our creations and help with our manifestations to bring more Grace into our lives. A specific lifestyle allows us to go deep within the inner silence to discover and experience this pranic flow in all its forms and as we focus upon it we become immersed within it and so find ourselves transformed. Increasing our personal internal and external chi flow can rid our world of all of all its hungers and bring about a state of global harmony and permanent peace."

Jasmuheen Background regarding Pranic Living:- Jasmuheen writes: "I am an Ambassador of Peace. My focus is to feed the children of our world the nourishment that they need. While a child dies every 2 seconds we cannot say that we live in a civilized world. Some may say that this is due to lack of both correct resource distribution and holistic education. Yes it is true that since the early 1970's, I have been experientially researching ancient, alternate nourishment sources that can feed us all – on physical, emotional, mental and spiritual levels – so that we can co-create a peace filled, healthy and harmonized world. Yes it is true that there is a free, limitless inner resource that can unhook us from our dependence of our world's resources and release us from many perceived human limitations. I call the more recent research we have done on this resource, The Prana Program." Please note: On the 07-07-07 Jasmuheen founded the Embassy of Peace with its tools and Personal, Global & Universal harmonization Programs & projects to co-create permanent peace in our world. This is the sole focus of her work now. Video - Jasmuheen on her background with Pranic Nourishment
1993 – Began to live purely on prana after undergoing a specific spiritual initiation.
1993 – Began a 17 year intense experiential research study on the nourishment from prana phenomena.
1995 – Wrote & released the Book "Pranic Nourishment" also known as Living on Light.
1995 - 1998 – Toured globally to share research on this reality.
1996 – Began a massive re-education program – via the Global Media – regarding prana as nourishment/resource stream.
1996 – 2004 – Talked about Divine Nutrition to > 900 million via the global media.
1997 – Began to set up various scientific research projects for Living on Light.
1998 – 1999 – Wrote and published Ambassadors of Light – World Health World Hunger Project.
1999 – Began contacting World Governments & speaking with select ministers regarding solutions to eliminate world Hunger and Health issues.
2002 – 2003 – Wrote The Food of Gods as a safer, more gentle alternative for people to convert to pranic nourishment.
2003 – World Tour to promote "Divine Nutrition and The Madonna Frequency Planetary Peace Project".
2004 – Wrote The Law of Love with its focus on true breatharianism techniques, then toured with "The Law of Love and Its Fabulous Frequency of Freedom" agenda.
2005 – Began work on The Prana Program manual with its Prana Program Project specifically for eliminating hunger issues in Third World Countries.
2005 – Presented THE PRANA PROGRAM to the Society for Conscious Living at the United Nations Building in Vienna – Nov. 2005 & later at the UN in New York.
2006 – International tour with THE PRANA PROGRAM.
2006 – Filmed the documentary "In The Beginning There was Light" with Peter Straubinger – released at Cannes film festival in 2010.*
2007 – Launched THE EMBASSY OF PEACE on 07-07-07 & began training programs for Ambassadors of Peace & Diplomats of Love.
2008 – Appointed President of the Global Congress of Spiritual Scientists Pyramid valley, Bangalore India. Began to implement The Prana Program in India.
2010 – Attended Kumbh Mela, Haridwar, India, to discuss pranic living with Indian's top Swamis & Yogis.
2010 – Toured with the Harmonics of the Heavenly Heart & Pranic Living Agenda & began to write/download the Pathways of Peace Pragmatics book.
2011 – Wrote and released her new book "Breatharian Pathways – Memories & Motivations" & also delivered the Pathways of Peace tour with its 12 Paths of Peace.
2012 – Jasmuheen's focus is on BEing Essence
2013 Jasmuheen focussed on the Upgrade program including upgrading to Cosmic Micro-fuel nourishment and sharing the Outside in and Inside Out nourishment categories.

Jasmuheen & her Global Role with Living on Light
Jasmuheen states – In our book The Prana Program, we shared that my role with this was as follows:-
1. Discover The Prana Program's gifts and live it all experientially thus proving to myself beyond a doubt its infinite possibilities as outlined in all of our books. This is a journey I intuitively began preparation for as a child. (See my book Breatharian Pathways – Memories and Motivations.)
2. Research all that I could on the subject, write about it and offer my research to the world in a pragmatic and simple way as possible. This included researching and simplifying data in the ancient and hidden mystery schools, and personally undergoing various alchemical initiations.
3. Be a bridge regarding The Prana Program between the eastern understanding, and my own experience of prana, and introduce the benefits of increasing the pranic flow as widely as possible to the West, in a way that supports the paradise agenda.
4. Find and support other proponents of this – Hira Ratan Manek, Zinaida Baranova, the Bigu states in the Qigong networks –and introduce their methodologies through our networks.
5. Be a media spokesperson for The Prana Program and via holistic education principles utilize the media to anchor The Prana Program reality in the morphogenetic field.
6. Set up both innernet and internet communications systems to share our research en mass as per my constant touring, books and websites.
7. Introduce The Prana Program and its benefits through political networks, and formulate an effective program to combine and share our research with existing aid and resource redistribution programs via the United Nations and others.
Over the last decade we have achieved points 1 to 7 and have been supported by great Grace as we always are when we fulfill our blueprint. It was not in my blueprint to give a year or two of my time – as Hira Ratan Manek the solar gazer has done – to personally be involved with extensive medical and scientific testing. Yet it was in my blueprint to act as a cosmic reporter and share the results of Hira's testing which has essentially proven the same thing – that a person can access enough prana, as an alternate form of nourishment so that they are free from the need to take physical food.
With all of this accomplished it is so nice to now move on to the more pragmatic applications of the agendas of the Embassy of Peace, knowing that people will experience this freedom of pranic living in their own time, when their resonance is right and when their hearts are open to such things. Fulfilling our pre-agreed agendas as joyously and with as much integrity as we can is always such a satisfying thing to do even though it is sometimes tempting to look back and see easier pathways to achieve it all. Still we do what we can as best we can in any given moment and from all of this we grow and learn.
To understand more of Jasmuheen's training for this please read her Breatharian Pathways – Memories & Motivations book. Click

here

for more on this.
* During the past decade Jasmuheen has filmed countless documentaries for education into the pranic nourishment reality. See below videos.

The Bigger Picture – resource sustainability & the global Prana Program Project:- The main gift of pranic living and increasing our personal chi/prana flow, is the ability to then be able to choose where we wish to take our physical body nourishment from. Also in order to eliminate global hunger issues we need to ensure that we adopt long term resource sustainability support systems and compassionately redistribute our current resources so that we can adequately feed everyone now and in the future. At the moment the ability to be nourished by prana is stilll relatively new to the western mind and there are many steps we need to take before this is a globally accepted lifestyle. However we can substantially reduce our carbon footprint now by becoming a vegetarian planet as it takes 20 times the resources to put meat on our tables compared to grains. Our free e-book 'Ambassadors of Light' covers this research in detail as does our manual The Prana Program while the book The Food of Gods provides the 'how to do this personally' methodology. Video data on the Prana Program Project, for eliminating or substantially reducing global hunger, is offered below.
Facts – Food for Thought - our world:-
From

Poverty.com

website:- About 25,000 people die every day of hunger or hunger-related causes, according to the United Nations.

Think Quest

data: -
In the Asian, African and Latin American countries, well over 500 million people are living in what the World Bank has called "absolute poverty";
Every year 15 million children die of hunger;
For the price of one missile, a school full of hungry children could eat lunch every day for 5 years;
Throughout the 1990′s more than 100 million children died from illness and starvation. Those 100 million deaths could be prevented for the price of ten Stealth bombers, or what the world spends on its military in two days!
The World Health Organization estimates that one-third of the world is well-fed, one-third is under-fed one-third is starving. One in twelve people worldwide is malnourished, including 160 million children under the age of 5.
Hunger in Global Economy; Nearly one in four people, 1.3 billion – a majority of humanity – live on less than $1 per day, while the world's 358 billionaires have assets exceeding the combined annual incomes of countries with 45 percent of the world's people.
UNICEF; 3 billion people in the world today struggle to survive on US$2/day;
In the U.S. hunger and race are related. In 1991 46% of African-American children were chronically hungry, and 40% of Latino children were chronically hungry compared to 16% of white children;
One out of every eight children under the age of twelve in the U.S. goes to bed hungry every night; Half of all children under five years of age in South Asia and one third of those in sub-Saharan Africa are malnourished;
To satisfy the world's sanitation and food requirements would cost only US$13 billion- what the people of the United States and the European Union spend on perfume each year.

The Prana Program in Brazil – The Amazons & Rio's Favela's – Brazil YouTube playlist. Insights – Data on Jasmuheen's personal work & observations in Brazil's slums (favelas) during 2006 & 2008 plus what some of the favela's people feel is needed to improve the quality of their lives. Recorded for the Embassy of Peace Global Harmonization Program. Video – Summary & Solutions – Brazil's Favelas.

The Prana Program in India – India YouTube Playlist. Touching on some of Jasmuheen's work in India. Inspirational India; Jasmuheen on meeting with Yogi Masters at Kumbh Mela; The Tree Baba & the standing Baba; Jasmuheen discussing her experiences in India.
Jasmuheen writes:- In India I always meet an abundance of doctors and scientists who are also committed to spiritual life. Because of their own meditation experiences they are always open and fascinated by our research into pranic living for while their yogis have lived on prana for thousands of years, they haven't done the personal research to understand the science of it all. To have a Western woman among them who has personally experienced this phenomenon and taken the time to research it as fully as possible, is an opportunity for discussion they rarely want to miss.
I look at my time with this in the West with so many saying "It's just not possible!" and then the effort they spend wanting to prove why it's not possible; and then in India with doctors who say instead "How is it possible?" who then listen to our findings and do corollary research with the data we provide them. This is such a blessing for me, such a difference. Quantum physicists working on the subatomic level, have already proven that we alter an event or flow of particles just by our observation of it, so as we, the Divine Being's that we are, interact in our mastery with the particle mix contained within our physical form and within the interdimensional realms then we alter reality and 'normality' within us and around us in just the same way.
It is all about consciousness. It is all about BEingness.
Being the Divine force that we are. The force who has a drop of its essence in each body. The force that we can meditate on so that it grows and blossoms within us via the 3 Universal Laws of Love, Oneness and Resonance. The force that in its infinite love, wisdom and power can then deliver through us and to us all its gifts if only we open ourselves to the possibility that a) it exists and b) that it has gifts to deliver.
In India the perfect people come to me, as they do in the Western world, open to synthesize what is said and open for me to radiate out through my Beingness, as I open even deeper to allow this force to channel into this physical plane, whatever is the highest harmonic for all.
It's all about openness, allowance, intention, clarity and resonance.
I may not have all the answers regarding how we will eliminate the hunger issue in India (as discussed as the 4th project in the Madonna Frequency Planetary Peace Program) but I do know that if it can be done, via who and what we are, then it will be done, and so the right networks are forming. Meeting with Shri Shri, reconnecting again with the bright light shining Beings at Pyramid Valley, many who are doctors, coming here to this resort and now talking constantly to the media in India who find me, all of this is weaving a web so important to the fulfilment of the agenda.
And again while I do not have all the 'how' details, I do know how to pray and program, how to bathe in this field of infinite love and I know more now how to just relax and be the rhythm of love in action. Hopefully this is enough to manifest in joy all that is to unfold in this land; a land so full of contradictions, a land so rich and pure, a land with so many people who carry the pulse of their ancestors and who are quick to remember who they truly are.
Some say that in our Western world, people have drugged themselves into deep states of unawareness via the pulses of television and general 'busy'ness and by blindly accepting the limited paradigms of separatist thought forms, through cultural and educational programs, and yet I have witnessed much of this changing as people step back, go within and, with open hearts, seek resolution so that all may live in peace.
Some say that in India it is the same. That those watching television have been made so hungry for Western wealth and realities that they have lost the desire to listen to their yogis and those who have always spoken the truth here.
The truth that the kingdom of heaven is within.
The truth that when we turn our senses within, and be in meditation, only then can we find the river of energy that will bring true freedom from human suffering.
The truth that it is always time to be kind and compassionate to each other and to all sentient beings. The truth that the best master/guru we have is within, breathing us, silently and lovingly supporting our existence. Yet here in India as in the Western world, once again I see that so many are embracing these ancient paradigms of truth, experiencing them so completely until they become these truths and no longer exist in worlds of separation, suffering and doubt.
The force that loves us enough to give us life is not only loving and wise but it is also the most powerful resource of transformation that any being has access to. It can instantly transform our world if we open the inner plane doors to its well and ask to receive all its gifts and of this I have no doubt. There is no other resource that can do this, that can create the harmonics of unification and peace that many seek and yet this must be experienced to be believed. It is the one energy flow that unifies us all into a common frequency where all hungers disappear, it is the one energy that holds the keys to resolution to all the conflict in our world, no matter how insurmountable the problem may appear.

BOOKS & RESEARCH MANUALSSix of Jasmuheen's 35 books are focused on her experiential research into the 'prana as nourishment' reality. The main two books that are recommended reading for those who are sincerely interested in this subject are The Prana Program & The Food of Gods. In this section we also offer data on our other relevant research manuals including the manuals Pranic Nourishment (also known as Living on Light); Breatharian Pathways, The Law of Love, In Resonance plus the free e-book – Ambassadors of Light. Also read her new BEing Essence booklet.
BEING ESSENCE – NEW! Published August 2012. In Being Essence, Jasmuheen shares of her lifelong love affair with her Essence with Its ability to nourish us and bring our world into a state of permanent peace. Via the profoundly powerful yet simple techniques and insights that she now provides in this her 37th book, Jasmuheen lovingly fulfills her role as an Ambassador of Peace for The Embassy of Peace. She writes:- In this manual we share simple yet profound truths that will also bring the controversial Breatharian reality in a deeper, clearer perspective. We will also offer simple techniques for the creation and revelation of the 'Paradise – Kingdom of Heaven' type realms. Yet in Essence it is all about our Essence, for it is our Enlightened Essence that gives us this freedom to be nourished on all levels, in such a different way. And when a human being is well nourished from deep within by their Essence, then they too radiate this pure nourishment wherever they go, wherever they are and so our world transforms itself into the Garden of Eden that it too, was always destined to be.

Research manual 1:- The Prana Program – Enjoyable & Effective Evolution with Jasmuheen – Everything you need to know about prana. Alternate Energy for the New Millennium, including a practical Prana Program for eliminating hunger in Third World Countries. Can we eliminate all health & hunger challenges on our planet? Is there a way of satiating everyone's physical, emotional, mental and spiritual hungers so that our work can enjoy peace and harmony? After over a decade of experiential research in the field of alternate nourishment utilizing chi or prana – also known as cosmic particles – Jasmuheen as leading researcher in this field, now puts forth a program to do just that. The Prana Program e-book is an encyclopedia type compendium of 'everything you always wanted to know about prana and more styled in Question & Answer format. Click here for more on this book.
Research manual 2:- The Food of Gods – Everyone is hungry for something – health, wealth, happiness, love, peace or even retribution and war. In this book Jasmuheen explores the Dimensional Biofield Science and its gift of Divine Nutrition, a source of nourishment that can eliminate earth's emotional, mental and spiritual anorexia and satisfy all of our personal hungers.
HOW? By changing our brain wave patterns, by adopting a specific lifestyle to change our field resonance and by utilizing both ancient wisdom and modern day science tools that are outlined in this book. Powerful solutions, and meditations and tools on how to nourish all our hungers and eliminate our physical, emotional, mental and spiritual anorexia so that we can all be healthy and happy and peaceful and prosperous. In this book Jasmuheen offers a softer safer way to tune the body to the pranic channel and free ourselves from our hungers. Click here for more on this book.
NEW! Breatharian Pathways – Memories & Motivations. In this book Jasmuheen finally shares her memories and motivations around her public work with living on prana. From her times with Jesus, and the disciple Luke, to her times in Cathar country and being starved to death during the inquisition, to the life of an woman in India whose great loss revealed the Breatharian way; to dealing with Sadhus and sages in India modern day – all of this and much more Jasmuheen shares in this book as well as finally revealing the details of some of her most spectacular media trials as she continues to educate the world into this phenomena. She writes: "Is it too much to believe that there is a wise and loving force behind creation? Or that great love brought creation into being, that great love breathes us and gives us life and that great love can heal and guide, as so many have attested? Knowing this, is it too difficult to believe that this wise and loving force that exists within and around us, can also nourish our physical bodies with their breakfast, lunch and dinners?". Click here for more on this book.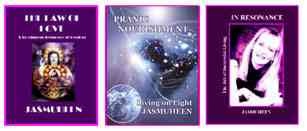 Additional Research :-
Research manual 3:- The Law of Love – An extensive 238 A4 page manual filled with powerful life transforming meditations which also details the Ancient Taoist Masters techniques for Immortality plus Futuristic Science tools of Inter-Dimensional Matrix Mechanics for Jasmuheen's Freedom from Human Limitation Agenda. This research covers freedom from the need to age or create dis-ease; freedom from the to take food or liquid as we learn how to create a self sustaining bio-system; freedom to express our Divine nature and all its gifts and glories … plus tested methods for determining our personal readiness levels for these freedoms! Click here for more on this book.
Pranic Nourishment – Nutrition for the New Millenium - detailing Jasmuheen's fourth book which details her journey and experiences plus a detailed 21 day process, that allowed her to be physically sustained by the chi of life. Click here for more on this new 2012 updated book.
Jasmuheen writes: – Please note that I can no longer support the 21 day process as we have found that it is too quick for most people on an emotional body level and that many do not follow the guidelines offered in the Living on Light (Pranic Nourishment) book. It also cannot guarantee your transition into living purely on prana and has a 10% long term success rate. Your only guarantee into this successfully, is your personal frequency which sets up a natural magnetic attraction into this reality once the mental paradigm is tuned. Hence we promote the slower, safer methodology as outlined in the book "The Food of Gods" which we have found has a 70% long term success rate as it is gentler to the bodies and allows for a more harmonious long term social integration. To undertake this 21 DAY INITIATION journey without specific preparation & the right calibration is dangerous.
In Resonance: - The information and meditations in this book are how Jasmuheen tuned herself over a period of 20 years before she began to live purely on prana. Utilizing the wisdom of the ages, "In Resonance" was written as a timeless manual for both personal self empowerment and self mastery. "In Resonance", is filled with inspirational information of both experiential research and channelled guidance from Jasmuheen and the Ascended Ones. The predominant focus of this book is on bridging the worlds of science and religion, the realms of the physical and etheric, plus the cultures of the east and west. "In Resonance" offers practical tools utilizing simple and also more complex meditations, specific programming techniques for tuning, mind mastery for reality creation and creating a purposeful and passionate existence. It addresses issues from meditation to telepathy and Universal Laws plus the existence of the Brotherhoods of Light. Click here for more on this book.
Ambassadors of Light : World Health World Hunger Project: – In this book Jasmuheen offers practical solutions to world health and world hunger related challenges, via the 'Luscious Lifestyles Programs' and via effective ways to redirect global resources. This manual also entails an in-depth look at the forgiveness of Third World debt, and at fundraising for social welfare programs through global disarmament, the dissolution of prohibition, holistic re-education programs and the elimination of the need for personal pharmaceutical use through the practice of preventative medicine. Click Ambassadors Of Light to download this free research manual.

DOCUMENTARY Movie – also see our YouTube video where Jasmuheen speaks about the making of this movie.
IN THE BEGINNING THERE WAS LIGHT:- Screened at Cannes Film Festival in the South of France in 2010, this NEW documentary will also be shown in major movie cinemas globally from September 2010. Filmed over a 6 year period, this documentary shows the quantum aspects of living on prana and has many detailed interviews with people such as:- Dieter Hochegger, Prof. Dr. Wolfgang Marktl, Prof. Dr. Anton Luger, Univ. Doz. Dr. Ingrid Kiefer, Dr. Ruediger Dahlke, Jasmuheen, Walter "Omsa" Rohrmoser, Dr. Michael Werner, Mataji Prahlad Jani, Dr. Sudhir Shah, Dr. V.N. Shah, Dr. Urmann Ohruv, Dr. Sanjay Metha, Hira Ratan Manek, Yuan Limin, You Xuande, Dr. TCM Qi Duan Li, Prof Dr. Gernot Pauser, Zinaida Baranova, Prof. Dr. Gerhard Hacker, Prof. Dr. Fritz-Albert Popp, PhD Dean Radin, Prof. Dr. Brian Josephson, Prof. Dr. Amit Goswani, Prof. Dr. Rupert Sheldrake, Dr. Jakob Bösch, Prof. Dr. Robert Jahn.
Part 1 of 2006 Interview

with Jasmuheen for In The Beginning There Was Light

– A relaxed view of Jasmuheen as she shares her background and personal journey with being nourished by prana, the 21 day process, her childhood, her training and esoteric reality and years of meditation, channeling and divine guidance, intuition, public and media response to this reality, her personal and social adjustment, quantum intelligence and self mastery, energy field science, Prahlad Jani and other breatharians, food as fuel, personal experimentation plus more.

DOWNLOADS – RELEVANT MEDITATIONS TO INCREASE CHI FLOW
The below meditations are specifically designed to increase our personal chi/prana levels.
Love Breath Meditation:- The most significant meditation we can offer to increase your pranic flow and for the refinement of your personal rhythm into a more relaxed and peaceful state is the Love Breath Meditation. This meditation is designed to allow us to align more easily and powerfully to the divine essence within and thus increase our prana-chi flow. It also incorporates specific mantras to allow this pure energy force to rise and flood through us and out into the world, thus feeding everything and to also relax us. This meditation is also designed to stimulate group unification and feelings of Oneness. For more information on this meditation click here.
Pranic Nourishment Meditation:- A relaxing meditation with Jasmuheen on accessing alternate nourishment pranic flows from both the inner plane cosmic particle streams and from nature – connecting with Gaia's heart & the cosmic heart plus some additional programming. NOTE: It is recommended that you also apply the Etheric Pranic Feeding Devices Meditation with this to get the full benefit of etheric feeding PLUS live the lifestyle recommended in our Food of Gods research manual. For more information on this meditation click here.
Etheric Pranic Feeding Devices Meditation:- A detailed meditation using the Higher Light Science & Alchemical practices to create inner plane, etheric body feeding devices to increase and boost our chi flows which can in turn improve health, happiness & harmony levels. Also enhancing our telepathic abilities via pituitary & pineal gland fine-tunement. This meditation with Jasmuheen uses mind power, the Universal Law of Resonance, alchemical violet light transmissions & more. NOTE: It is recommended that you also apply the Pranic Nourishment Meditation with this to get the full benefit of etheric feeding PLUS live the lifestyle recommended in our Food of Gods research Manual. For more information on this meditation click here.
Additional Helpful Meditation for Improving mind-body connection:- Organ Message Meditation - Improving our mind body connection. Listening to the voice of the body and receiving particular messages from the organs to improve physical and emotional health and vitality plus more. Also rebalancing & recalibrating each organ using violet light nutrition. This guided meditation uses using breath techniques, creative visualization, programming & intention. Click here for more data on this meditation.

RETREATS – Pranic Living Training:- Each year Jasmuheen travels extensively to provide training in pranic living which she provides as a basic part of all her work. Pranic living in essence about increasing our chi flow to eliminate physical, emotional, metal and spiritual hungers. Click here for details on her seminars and retreats. Re specific courses on living on light, apart from our intense Darkroom retreat training - we do not offer courses in Breatharianism or living purely on prana as we feel that your best guide or helper in this is the Divine One Within you – your DOW – and you need to be able to trust this inner voice 100% before making this type of transition to live purely from its' love. Just hold the intention that IF it is in your blueprint to do this then it occurs in joy, ease and Grace guided by your DOW in the perfect manner and in the perfect time. In the meantime, honour your intelligence and acquaint yourself with our books, CD's and free data on YouTube.

RELEVANT YOUTUBE VIDEOS regarding living on light & pranic nourishment:- Alternate nourishment sources for efficient personal & global resource usage.