Welcome to the Freedom series of the Embassy of Peace!
Powerful life enhancing online courses with more coming soon!
3 now launched!!!
Course 1, Course 2 and Course 7!
We hope that the following courses will all be available by the end of 2020 – use the below 'sign me up' link section to register your interest although each course will have its own link to do so below. And yes there is a discount for doing more than one course!

The Freedom Series video introduction serves as a detailed introduction to her new online Freedom series – video length 7 minutes.

In this YouTube video, Jasmuheen shares about true freedom and introduces how this is possible by zone changing as every zone or what some would call dimension – is overlaid in the here and now. Zone changing is just like changing houses or relocating to a different city or country and the how to do this with joy and ease and Grace is what this series offers through powerful yet pragmatic methodology that is based on the Higher Lighter Science that Jasmuheen has been taught directly by the various lights beings she is overshadowed by or connected to in the Unified realms.

The Freedom Series … JASMUHEEN'S TRAINING & BACKGROUND AS COURSE FACILITATOR
As it is important to know more of the background of someone who is providing courses such as these, you may also like to watch the below videos …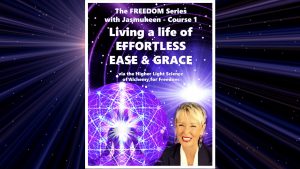 NOW AVAILABLE – COURSE 1 – The Science & Pragmatics of Enjoying a Life of Effortless Ease and Endless Grace –
38 POWERFUL VIDEOS plus AUDIO'S and a WORK BOOK to support this program! Jasmuheen writes – There are so many zones we can live in on Earth – from the Shambala Matrix of constant joy, peace and Grace to the more fractured field of the dual-natured world with its up and downs and all it teaches. Being able to re-vibrate ourselves into the zone of our choice – once we know what is there and how to do this, is an amazing science and skillset to learn and apply! Utilizing Inter-dimensional Energy Field Science and basic Alchemy practices, this powerful series will cover things like:-
Living in a zone of reality of our choice, the how to of experiencing deep and permanent peace and

exploring the "more than everything you can imagine" zone of awe and wonder that is overlaid in duality and the denser Earth zones!

Being truly free from so many human limitations, accessing endless wisdom via the perfect inner teacher – guide,

being a nourishing presence in all realms,

experiencing our multidimensional nature and literally feeling as if we live in Heaven on Earth.

Pragmatic Coding to achieve this while working with Quantum Benevolence.

Plus so much more!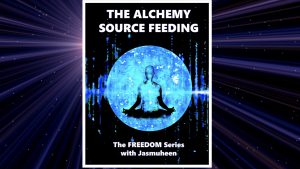 NOW AVAILABLE – COURSE 2 – THE ALCHEMY OF BEING SOURCE FED
This will be a Course like no other as Beings of Light from the Unified Realms share the methodology that they used to eliminate all health and hunger issues in their Earth-type worlds.

This is a program of ascension where we maximize the flow of our vital life force – chi, Essence, prana – until we have no more physical, emotional, mental and spiritual hungers!

It was these beings that introduced the 21 day process to the Western world in 1993 – please note that there are now over 100,000 people who have this freedom now on Earth and many different methodologies are being offered. This data is brand new to Earth.
This powerful and pragmatic Course will cover being free from all human hungers via the A, B, C's and formula for this freedom which also includes being free from the need to take external physical food once your system has merged deeply enough with the energy that can feed it differently!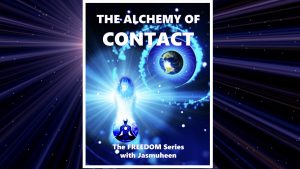 COURSE 3 – THE ALCHEMY OF CONTACT – NOW BEING PREPARED!

This powerful and pragmatic Course will cover:-
Contact with and immersion deeper in the field of our own pure and perfect Ascended nature.

Contact with and field merging deeper with our loving Light Being friends from the Ascended Awareness.

Contact with our Intergalactic Family and friends who have always supported us since we first descended as Star Beings to Earth.

We will also cover life in the Unified Realms, Earth's future, the Channeling process, activation of our higher abilities, telepathy and the Languages of Light plus much more.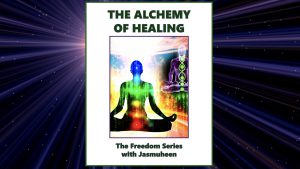 COURSE 4 – THE ALCHEMY OF HEALING – COMING SOON!

This powerful and pragmatic Course will cover:-
How to be  healthy on all levels of our being.

Spontaneous Healing – requirements and triggers

Activating and working with the Inner Healer Alchemist for self healing and rebalancing when required.

The preventative medicine lifestyle.

Being physically, emotionally, mentally and spiritually healthy and whole.

The Game of Immortality.

The Lightbody Matrix of Perfected Health and how to trigger it.

Applying the Christed Healing Techniques plus so much more!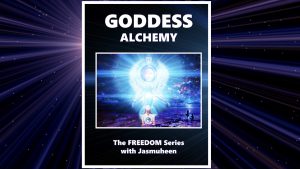 COURSE 5 – GODDESS ALCHEMY – This is also THE ALCHEMY OF PURE LOVE

Introductory video to this course coming soon!
This powerful and pragmatic Course will cover:-
The new Matrix rising from the Shambala Matrix in the Earth field plus

the descending Matrix of True Tantra from the Unified realms.

The Divine Dance of Shiva-Shakti in us and on Earth.

Tuning to this and activating it within plus so much more.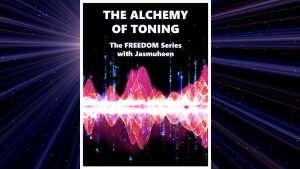 COURSE 6 – THE SACRED ART OF ANGELIC TONING
Introductory video to this course coming soon!
This powerful and pragmatic Course will cover:-
The Sacred art of using angelic frequencies for healing and

rebalancing and activating …

Applying the art of sacred sound and sufi spinning for field finetunement

Experiencing more of our Angelic nature that is part of our Lightbody template

plus so much more!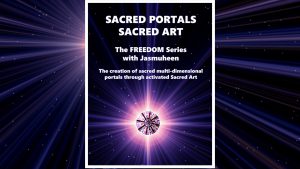 NOW AVAILABLE – COURSE 7 – SACRED ART FOR SACRED PORTALS – launched and ready!

This powerful and pragmatic Course of 25 videos follows on perfectly from Course 1 and will cover:-
How to create then activate Sacred Portals in and around our homes and where we live so that what our environment transmits into the community is beneficial.

This is Cosmic Feng Shui of the highest order and a very beautiful way to transmit energy whether we are present in our homes or not.

Your home as an ashram or a Temple? This is easy to create using colour, sound, dance and more! Jasmuheen has been sharing her Sacred Art courses for decades throughout the world and many who have taped into this natural flow of creativity continue to use these skills daily.

This course is for established artists and those who have never painted before!!

Jasmuheen states: "Music, dance, creative expression through art or writing, there are so many ways for us now to access these powerful yet subtle energy flows that can take us into more continuous and profound feelings of joy and celebration which are a dominant part of the new matrix of creation. We are coming now into a time of the creatives, those who know how to touch hearts and create that which brings us into a state of awe and wonder!"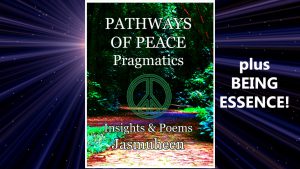 Pathways of Peace Online Course 8
Introductory video to this course coming soon!
The Pathways of Peace Program has been taught successfully by our Ambassadors of Peace in so many countries – literally transforming the lives of thousands of people.
In this series Jasmuheen – as Embassy of Peace founder – will take you through each step of this program on a week by week basis so that it is a 12 week course. This is a program given to Earth by the Angelics through Jasmuheen and so it carries a very particular frequency spectrum which is very different to the Luscious Lifestyle Program that is also offered by our Ambassadors. This course offers – Video insights, audios, a workbook to record the changes in your life and your insights plus regular tune ins and updates with Jasmuheen as she answers any issues and questions that you may have. She will also be working with the Angelics to guide you through very specific meditations that are relevant to these current times as many on Earth seek now to stabliize themselves in the rhythm of peace.
To find out more and to register your interest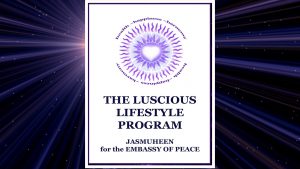 Luscious Lifestyle Program Online Course 9
Obtaining and maintaining the rhythm of health, happiness and harmony on all levels in our life! Perhaps this should be our first online course as it is the frequency we gain as a consequence of our lifestyle and how we spend our time that determines everything especially the quality of our lives! Out of all the work Jasmuheen has offered the world these past decades this Lifestyle has had the greatest impact on thousands of people's lives and so she now offers this Course for those who are looking of all of the above plus the ability to live a life of joy and peace.
She will also be working with the Ascended Masters who created this program, to guide you through very specific meditations that are relevant to these current times as many on Earth seek now to stabilise themselves in the rhythm of health, happiness and harmony that this program can deliver.
This course is a wonderful way to move through this next 2020-2030 time of great change in a healthy, happy and harmonious rhythm!
To find out more and to register your interest in this course click here
In the meantime you can subscribe to our Online Course mailing list
which is on the top right hand side of this page or below.