In our previous post at this link, we lodged Parts 1 to 6 in our free online Pranic People Training series. Most of this dealt with preparation. Videos 7 onward deal more with post conversion adjustments & video 9 with a summary of important points.

Let's begin here with a recap….
Pranic People – Part 7a – A RECAP with Jasmuheen – a brief recap at what we have covered so far in this series plus a little on Jasmuheen's personal interest and background with this.
Next in Pranic People – part 7b – our pre-encoded blueprint & what this means, problems with various processes & toxic self-judgment, dealing with mental toxicities, post conversion social constructs & choices, success signs & attributes of being immersed in pranic consciousness, seeing life through the eyes of your essence nature & following your heart, being unique in your journey.
Pranic People – part 7c – What is required for weight stabilization plus powerful recoding for this, the role of the bio-system in our life's journey, the miracle of the human design when Essence dominates, the absorption vrs radiation reality plus so much more with Jasmuheen
Pranic People – Pranic Living – part 8a – The Compassionate Heart – compassion for ourselves, for our planet and its resources, the impact that pranic living can have globally on health and our environment, our universal citizenship and the unified realms. Being in unity and harmony on all levels within ourselves, with mother earth, binge eating post conversion, unbalanced bio-system push-back reactions, being a nourishing presence on earth, how our cellular structures feeds itself from pranic flows, magnetic attraction, the paradise on earth zone, being a living example of love in motion and more …
Pranic People – Pranic Living with Jasmuheen – Part 8b – The Perfect Harmonic & The Greatest Gift of Compassion – In part 8b, Jasmuheen provides specific heart-felt Coding for operating in a way that is for the highest good of all; coming into the perfect harmonic for our existence on earth, global warming, brain harmonics, coding for the revelation of, and experience of our true nature plus additional bio-system recoding, the greatest act of compassion and more!
Pranic People – part 9 – Series Summary – In this sharing Jasmuheen covers some of the main points that she feels is important in this series. As she shares, "There is so much research still to be done in this field & simple, new methodology will continue to come in as consciousness on our planet expands more to accept these new yet ancient free energy systems. May we work together for the good of all!"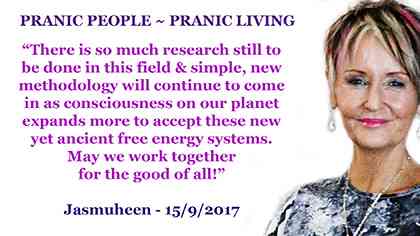 Still to come ….
Pranic People – Darkroom Technology for Pranic People – living the pranic infusion lifestyle with Jasmuheen for 9 days and 9 nights